Our business has a focus that sets it apart from many others in the industry. Our clients. You expect professionalism from your solicitor, accountant, banker or boss. Why not from the people teaching you to fly? It's what we expect of ourselves, and all those who learn the art of "airmanship".
It starts with the people who work here. They have been selected to work with us because they set the highest personal and professional standards for themselves, and have demonstrated their commitment and desire to be a part of a team who wants to add that something extra to the people they work with and especially to those they teach. It's just the way we want to do business around here.
It further extends to the standards we operate by. Our aircraft are maintained to the highest possible standards. Our initial trainer, the Cessna 172, is a world-renowned platform for building quality aviation skills whilst being a delight to fly.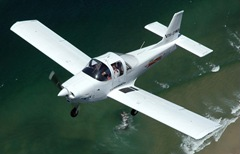 By the time you qualify to fly a twin engine aircraft, your standard of knowledge and technical competency will be of the highest level. Our simulators are approved by the Civil Aviation Safety Authority and carry the latest flight training software to test your newfound skills. We strive for quality in everything we do – why should you settle for anything less than a quality training experience?
Where to from here?
Ready to take the next step? Simply contact us. We will offer you the opportunity to talk through your thoughts. At Flight One, we take the time to understand our client's goals. Remember, there is no such thing as a dumb question! For a personalised training program that meets your aspirations, your first step is to pick up the phone.
To find out more about how Flight One can facilitate your training arrangements, call us on 1800 FLY ONE (07 3123 7300).