Once you have begun your training with Flight One, it won't be long until you launch into the skies as a solo pilot.
Prior to this happening you will need to be in possession of the following items:
an ARN (Aviation Reference Number)
an ASIC (Aviation Security Identification Card)
a medical clearance (see our page on Aviation Medicals for guidance on the type you will require)
What is an ARN?
It is a unique six digit number which will be assigned to you for the remainder of your aviation journey. Everybody in the industry has one.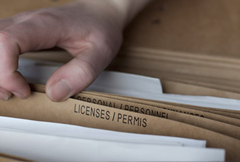 What is an ASIC?
It is an identity card which has been issued to you after a criminal history and counter-terrorism background check has been completed. It is not required for all airports in Australia, but is definitely needed at controlled airports into which RPT (regular public transport) operate. An ASIC is valid for 23 months.
Below are the links for the forms to download, print and complete.
CASA – Aviation Security Identity Card (ASIC)
CASA – Aviation Reference Number (ARN) Application
We have an in-house document certification officer to assist you with having your identity and other documents certified and validated. Once you have completed the necessary forms AND obtained a letter of introduction from us certifying that you are a student with our School, send them to following address:
CLARC – CASA
GPO Box 2005
Canberra ACT 2601
We recommend you complete these forms as quickly as possible so as not to delay the progress of your training, given that the process can become protracted depending on the volume of applications being processed by CLARC at any given time.