Looking for IFR recency? Got a renewal coming up and need flight simulator time? Why not talk to the Flight One team about our CASA approved Cat B Synthetic Trainer based at Archerfield Airport? Using the latest Elite software, our Flight Simulator (more correctly called a Synthetic Trainer) includes Garmin 430 avionics and a range of aircraft – both multi and single engine.
The approval we operate with includes the following instrument rating credits:
Initial Issue:
20 Hours instrument time.
15 hours cross country time.
DME/GPS arrival procedure.
Recency:
two hours (of the three) instrument time requirements in 90 days.
NDB, VOR, ILS, LLZ, DME/GPS arrival, RNAV/(GNSS)
one hour instrument time in 90 days for single pilot recent experience requirements.
Renewal:
NDB, VOR, ILS, LLZ, RNAV/(GNSS)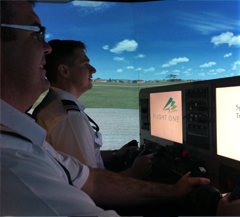 Our comfortable, quiet surrounds are ideal for spending quality time in simulated IMC. Our qualified instructors carry MECIR themselves, and would be only too happy to lend a hand.