Are you a developer who not only wants to get to a project with ease and efficiency, but would like the option of taking aerial publicity shots to assist with marketing and sales? Are you a rural property owner looking for a way to maximise the time between dawn and sunset to tour your holdings or get to that important cattle sale? Are you a time-poor business person who needs to be in the right place at the right time to assist with the closure of a critical transaction?
Whoever you are, and whatever you do, Flight One has an aviation solution that fits the bill. In these days of "economic conservatism", there are so many reasons to consider air charter as a natural answer to your business' transport needs. When time really does mean money, the ability to get from point A to point B to service the needs of a valued client cannot be underestimated.
In an era where achieving work/life balance is almost an art form, who really has the time to wait for the regular air services and then suffer the long drive from their most convenient airport?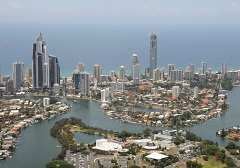 Please invest a moment of your time to contact us or call us on 1800 FLY ONE (07 3123 7300) and we will be happy to assist you further.