Sean Norieks, CPL MECIR
"Choosing a flying school is the first of many important steps on the road to becoming a pilot. It will have serious influence on the kind of pilot you will become later on in your career.
Many pilots try to sum up their flight training with a price tag or what period of time it can be completed in. However, it should be a reflection on what your money and time was spent on rather than how much of it was spent.
Will you spend your time waiting in a crowded room competing with a multitude of other pilots for an instructor's time? Or would you rather have a low student to teacher ratio and an atmosphere which allows for open learning rather than the typical student teacher relationship?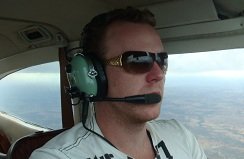 Will you spend your money on aircraft and instructors that have not, and most likely will not see, any real word charter experience? Or would you rather be taught in aircraft that are commonly used for charter operations and taught by instructors that are actually real life charter pilots as well.
If you're like me and you're more about quality then quantity, then I would look no further than Flight One. They offer a unique compilation of professionalism, practicality and flexibility, taught by real world charter pilots in real world charter aircraft.
Like numerous other students that have completed their training at Flight One, I have had no problem with finding that ever elusive first job and I sincerely thank Flight One and all its staff for helping me along the path to my dreams."
Julian Duff, GFPT
"I recall when I initially walked into Flight One, I had a conversation with you about flight training options, which you followed up with an email outlining our dialogue. This is beyond the customer service one can expect of most flight training providers. I've talked to a few of them by now.
So I was impressed from the start and continued to be all the way through. You guys taught me a lot, no doubt I have lots more to learn. So thanks again to [the team], I'll no doubt be walking through the doors again!"